Death in a Red Canvas Chair
On a warm fall afternoon, the sweet odor of decay distracts Rhe Brewster from the noise and fury of her son's soccer game. She's a tall, attractive emergency room nurse with a type A personality, a nose for investigation and a yen for adrenalin. This time her nose leads her to the wet, decaying body of a young woman, sitting in a red canvas chair at the far end of the soccer field. Her first call is to her brother-in-law, Sam Brewster, who is Sheriff of Pequod, the coastal Maine town where she lives. Sam and Rhe's best friend Paulette, Pequod's answer to Betty Crocker, are her biggest sources of encouragement when Rhe decides to help the police find the killer.
Her discovery that the victim is a student at the local college is initially thwarted by an old frenemy, Bitsy Wellington, the Dean of Students. Will, Rhe's husband and a professor at the same college, resents her involvement in anything other than being a wife and mother and must be manipulated by Rhe so that she can follow her instincts.
Rhe's interviews of college students leads her to a young woman who had been recruited the previous year to be an escort on a Caribbean cruise ship, and Rhe trails her to a high class brothel at a local seaside estate. The man behind the cruise ship escort service and the brothel is the owner of a chain of mortuaries and is related to the dead student.
When Rhe happens on the murder of a young hospital employee who also works for the mortuary chain, she becomes too much of a threat to the owner's multiple enterprises. She is kidnapped by two of his thugs and is left to die in a mortuary freezer. In the freezer she finds frozen body parts, which are linked to a transplantation program at her hospital.
Despite all the twists and turns in her investigation, Rhe ultimately understands why the student was killed and who did it. And she solves the riddle of why the body was placed in the red canvas chair on the soccer field.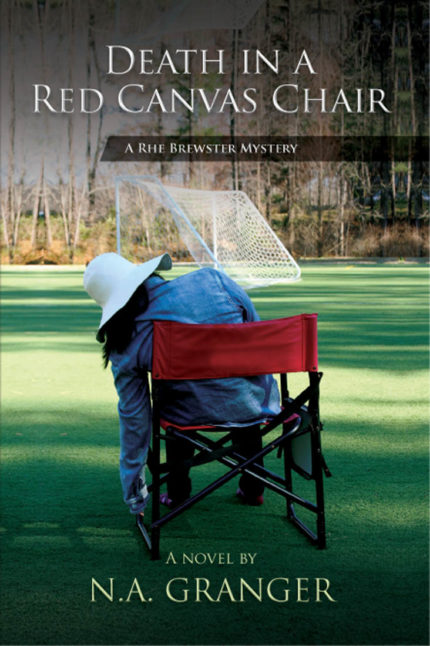 Buy from Amazon!
Rhe Brewster loves to eat….and to sleuth. And she does both well and often in this well written murder mystery. The author is knowledgeable about the location of the story (a coastal town in Maine, where she grew up) and the medical field (impressive bio!) and her writing is infused with her expertise, giving the entire story authenticity. She weaves the mystery in a skilled way and you may find yourself thinking you know who the murderer is, just to change your mind a chapter or two later. Action packed, credible dialogue, real-life problems in Rhe's relationship with her husband. A lot going on here but it all comes together seamlessly; a page turner!
Amazon customer Emily Gmitter